Okay, so back in the late 2007's they said they were going to make a Star Girl movie should we create something to show this? Like an article explaing what happened around this? Please post what you think about this.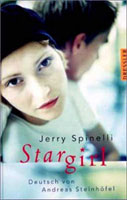 I also found this, I believe it's something like the poster for the movi if they had came out with one.
Ad blocker interference detected!
Wikia is a free-to-use site that makes money from advertising. We have a modified experience for viewers using ad blockers

Wikia is not accessible if you've made further modifications. Remove the custom ad blocker rule(s) and the page will load as expected.